The year 2009 has been an important milestone in the development of augmented reality as an important future technology.  While markers and marketing campaigns captured the early interest of the year, the bigger story was the porting of augmented reality to the various smartphones in the second half. 
But those two generalities aren't the only thing that happened in 2009 in regards to augmented reality.  I'm going to take a look back at the year, month-by-month, to remember how the year unfolded, so we better understand the direction of the future. 
January
Back at the dawn of 2009, all the augmented reality news you needed to know was in one place – Games Alfresco.  Hope was high and all the pieces seemed to be clicking into place. 
Biggest News of the Month – Metaio releases its Lego AR boxes
   * By a long shot, Metaio's release of the augmented reality Lego box was the biggest news of the month.  When you can get Angela Merkel and the Govenator to pose with your product, you're doing well.
Coolest App/Video – iPhone App Helps Solve Rubix Cube
   * This app portents of things to come in the future as products like Google Goggles amp up the possibilities of reality-search.  Using specific algorithms (agents) for specific tasks, there will be an app for everything you want to do in the future.
Best Article / Interview – UgoTrade Interview with Robert Rice
   * Though Robert hasn't delivered on his promise of a Neogence product by mid-year (though the Apple video API has stymied their progress), the rest of the interview is full of great quotes and nuggets about augmented reality.
   * Notable quotes from Robert that show how much he understands the industry:
But yes, I'd say that the next 18 months are going to be very interesting with a lot of money being thrown around, new ventures, and plenty of content/applications. I expect most of this will be centered on single user AR experienced through a mobile device with a screen (iPhone, android, etc.). I expect that there will be a significant boost after Vuzix releases some of their wearable *transparent* displays, putting Microvision back into the "has potential but is too quiet" position.

Remember, one of the biggest risks that AR has, is being branded as "novelty", which means "cool for five minutes but ultimately a waste of time." I think we have a ways to go before something is truly useful, but as 2009 progresses we should start seeing some effort here. I'd guess 2010 before something really useful comes out…at least something practical.
Now, having said that, I should say that I expect entertainment and games to take the lead (as usual), although there are a few companies really trying to leverage AR and video/graphics compositing for marketing (brochures) and location based methods (kiosks, large screen projections, etc.)
Other notable things that happened in January – The Augmented Times is born and Rouli Nir begins a great year of chronicling the happenings of AR. 
An auspicious quote from Rouli:
This blog is about Augmented Reality (AR). It is my firm belief that AR will be the next web revolution (the so called Web 3.0, and forget about that semantic web nonsense). In the next few years, stronger devices and better algorithms will enable us to merge the real world with cyberspace. Using your mobile phone (at first) or head up display (later on) every real object will be augmented and achieve a web presence. Tourism, shopping, advertisement, entertainment and education are only a few areas that will never be the same.

This blog mission is to document this revolution as it happens. We welcome you, and welcome our augmented future.
February
This month is relatively quiet due to it being handicapped by fewer days than the other months. 
Biggest News of the Month – Augmented Reality in Flash Now Commercially Available.
   *  Making the nuts-and-bolts tools of AR available for commercial use is always a good thing, especially when its paired with flash. 
Coolest App / Video – "Sixth Sense" MIT Device.
   * Patty Maes unleashed this phenomenon on the web early last year and it still gets links and mentions today.  While projection based AR is probably not medium that we'll all eventually use, the video showed tangible use-cases that help the non-initiated understand the embryonic technology.
Best Article / Interview – This comic from the Abstruse Goose sums up a lot about the future of ubiquitous computing (via Augmented Blog.)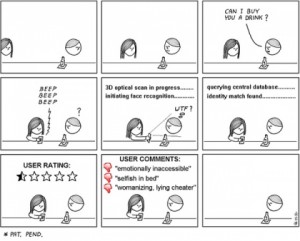 Other notable things that happened in February– I started the Future Digital Life blog, which upon reading my early posts, makes me cringe a little.  Oh well, nothing ventured, nothing gained.  Also, Rouli starts the Weekly Linkfest, the best place to find the round up of AR news each week.
March
In like a lion, out like a lamb.  Augmented reality starts to get rolling in March with lots of goodies and promises.
Biggest News of the Month – Metaio and Vuzix Team Up to Create AR Goggles.
   * While the year has been mostly disappointing regarding HMDs, this was the one tangible piece of progress in the bunch.  The video Ori captured at the GDC portends to greater things.  While no companies have released products for the Vuzix+ARCam, we've recently seen an impressive project from Craig Kapp with his Whisper Deck. 
Coolest App / Video – Blair MacIntryre's GA Tech team – Zombie Attack and Pit Strategy.
   * The videos showed what polished AR games can look like. 
Best Article / Interview – I'm going for a two-fer on this one because its hard to choose between Ori's talk at WARM09 and Robert's Decade of Ubiquity post. 
   * If you haven't watched Ori's talk, I highly recommend it.  Even though I'd seen the video, I made a point of hearing him live at ISMAR09 because I think its such a well thought-out call for human-based technology.  Robert's vision is a bit more expansive and covers the whole of augmented reality.  I'll leave you with another Robert quote:
We will break away from the desk, we will throw away our monitors, and our children will laugh at how large our IPhones are. They will struggle with how we ever managed to get work done with "windows" "webpages" and keyboards. They will be unable to fathom the concept of vinyl disks, typewriters, and landlines. But it all starts, and accelerates, during this next decade. Imagine everything that happened in the last decade, and multiply it. You haven't seen anything yet. The next decade will make the last one pale in comparison.
Other notable things that happened in March – Topps released augmented baseball cards and ISMAR09 begins calling for papers. 
April
Biggest News of the Month– Rouli and Ori team up on Games Alfresco to create the AR hub for all AR related news.   
   * The move allowed Ori to focus more on his company and gave Rouli the helm on the daily AR newscasting.  Looking back at the great job that GA has done, I'd say it was a good move.
Coolest App / Video – Marco Tempest's AR card trick video.
   * The video hit the web in April and showed us how AR can change our perception of reality. 
Best Article / Interview – Tim O'Reilly talks Web 2.0
   * Augmented Times identified the best quote from the video:
RFID is an evolutionary dead-end … semantic web or RFID is things "wearing name-tags", and web 2.0 is learning to recognize things … We're getting to that kind of augmented reality, where our computers will have senses that are as good as ours or better … they are going to recognize faces, they are going to recognize objects, they gonna have immediate recall. If you ask me "what's the UI in five years", it's a pair of glasses … I'm gonna have some kind of little heads up display because I'm gonna look at something, I'm gonna walk around at a meeting and it will go "that's Joe, you met him three years ago".
Other notable things that happened in April – Georgia Tech fear of heights video (another peak into the future of augmented reality as a perception changer), Rouli's call for marketers to stop using AR to sell cars, Lester at the Augmented Planet gets his blog started, Nokia point and find is out and a couple of articles about brain-computer interfaces: Honda controls robot and the brain-twitter breakthrough. 
May
Biggest News of the Month – Metaio releases Unifeye design demo.
Coolest App / Video – Useful AR from the US Postal Service.
   * Using FLARToolkit, the US postal service shows us that not all AR applications have to be novelity ones. 
Best Article / Interview – Tish interviews Ori Inbar about mobile augmented reality. 
Ori: Just like with every emerging technology in history, people never bought the technology, they bought the content, the apps, the benefits that came on top of the technology. Whether it was VHS winning over Beta Max, or BluRay winning over HD. It's always because of more/better content. Look at the video game console war: Xbox, and Nintendo did better than Sony just because they had more and better games. Even Windows was a success thanks to its applications. People bought it for the applications not the OS. The content is the first to drive demand.
Other notable things that happened in May – My post about the Path to Augmented Vision, Programmer Joe talks AR at LOGIN, and 11 Industries to be Reinvented with Augmented Reality. 
June
Biggest News of the Month – Layar is online. 
   * The biggest news of the month by far.  Layar was the first big product release that got a buzz bump. 
Coolest App / Video – Zugara Social Shopper.
   * The video showcased the use of motion capture to help eliminate the burdensome need for keyboards and mouses when you're using augmented reality.  Zugara later put the technique into practice for their Cannonballz and Fashionista products.
Best Article / Interview – UgoTrade Interview with Blair MacIntyre
   * No surprise here.  Tish Shute continues to get great interviews with everyone important in the AR field. 
The problem with the mobile phone as a AR device is that problem of awareness. If I have a head mount on and I walk down the street and there is bunch of probably-not-useful-but-potentially-useful information floating by me, that's a good thing, because I may see something that is useful or makes me think of something else.  But if I have to hold up my phone to see if something might be interesting nearby, I will never hold up my phone because at the time there is a high probability that there won't be anything particularly important there.  You might imagine you can get around this by using alerts or something like that, but then you overload whatever alert channel you use.
Other notable things that happened in June– Ori asks us all about our favorite AR games of all time, Noah breaks onto the scene with his Touchless Glove Interface, and Goggle presents their paper on Computer Vision and Pattern Recognition (which later becomes Goggles). 
July
Biggest News of the Month – The AR Consortium Announced. 
   * While its still unknown if the consortium has accomplished anything through cooperation, the intention of cooperation is a start.  Here's to hoping we'll see more fruit from this vine in 2010.
Coolest App / Video – AcrossAir Tube Finder.
   * At the time it was released we weren't sure if it was a real product, but eventually we learned the truth and for a time, AcrossAir became the top selling AR app on the iPhone appstore. 
Best Article / Interview – UgoTrade Interview with Ori Inbar "Reality Reinvented"
Ori:You are so right. It's multiple elements in the industry that have to come together. You have the technology companies like Imagination and Metaio, then you have content companies like what we're trying to do; the hardware vendors and the large content providers. Those brands that we're trying to go after and educate them about the potential of AR. All these pieces need to come together for this market to ignite.
Other notable things that happened in July – James Alliban's business card goes viral and AR Avatar toys are released at Comic Con.
August
Biggest News of the Month – Yelp Introduces AR Monocle via Easter Egg
Coolest App / Video – Bruce Sterling's Layar Keynote – At the Dawn of the AR Industry
   * Bruce released an AR-infused novel Catyadids in 2009, so it was only natural that Layar asked him to speak about the fledgling industry.  The speech is memorable with too many great lines to pick from for quoting here. 
Best Article / Interview – Thomas Wrobel's Proposal for an Open AR Network
   * Easily Tish's best interview because it turned into more than a reflection of past events or hopes for the future.  Tish and Thomas have since rallied AR professionals and amateurs to join the AR Wave collaborative effort.  They seek to use Wave as the platform for an open AR network and have recently been testing code. 
Other notable things that happened in August – AR Strippers!
September
Biggest News of the Month – Vuzix 920Wrap Will Not be See-Through
   * The biggest disappointment of the year was the news from Vuzix.  Good see-through AR glasses are supposed to release us from the tyranny of the "magic lens".  Hoping 2010 brings better news, but I'm really waiting until 2011. 
Coolest App / Video – Augmenting Aerial Maps with Dynamic Information
Best Article / Interview – Gene Becker's Design Strategies for Magic Lens.
Other notable things that happened in September – No more Gamaray – Death of a Browser, Int13 and Total Immersion getting into bed, and the augmented reality reading list.
October
Biggest News of the Month – News from ISMAR09, News from ISMAR09 #2 and UgoTrade ISMAR09 Coverage.
   * I was lucky enough to attend and speak at ISMAR09.   The energy of the participants was exceptional and I came away from it more jazzed about AR than I was going in.  Hopefully the ISMAR committee will be releasing the videos from the event soon. 
Coolest App / Video –  2D sketches become 3D reality. 
Best Article / Interview – ISMAR09 HMD Review
   * I think I summed up the current state of HMDs for AR pretty well.  I'm hoping 2010 brings a suprise for AR HMDs.
Other notable things that happened in October – AR Wave discussion on UgoTrade, Wikitude for the iPhone first look and Giant Hand Torments City
November
Biggest News of the Month – Junaio hits the app store. 
Coolest App / Video – Interactive Entertainment Using AR
   * The videos about the Disney experiences were similar to what Mark Mine showed us at ISMAR.  They really show us how technology can transcend our perceptions of reality.
Best Article / Interview –  Augmented Planet's Head-to-head browser test (and part 2)
   * Lester broke down the various browsers in this excellent hands-on challenge.  Read both parts to find out the winner.
Other notable things that happened in November – Business Week's Article about: Getting Beyond the Hype and Robert Rice's reply. 
December
Biggest News of the Month – Goggle Googles is released.
   * The giant has awoken.  Goggles has many implications for Googles ideas on the AR market.  This won't be the last time we'll hear from them about this technology.
Coolest App / Video – Layer 3.0. 
   * While Layar has since pulled the app from the app store and had to issue and apology, the version 3.0 still holds lots of promise. 
Best Article / Interview – Augmented Reality in 2010: Predictions (10 part series)
   * A wide swath of the AR blogosphere had the opportunity to participate in the predictions series from Games Alfresco run by Rouli Nir.  More interesting, snarky, and possibly-true predictions that you can shake an augmented stick at.
Other notable things that happened in December – AR Wave FAQ on UgoTrade, Enkin acquired by Google, ARDevCamp, Wikitude Teams Up with Lonely Planet, 10 Worse Uses of AR in 2009, and Nexus One News and Implications of AR. 
What It All Means
Whew.  After reviewing hundreds of articles and videos, I'm sure I've missed a number of important happenings from the year 2009.  If I have, please make sure to comment and I'll add it if I have overlooked it. 
What does it all mean?  That is entirely up to you.  The year has brought many advances to augmented reality and the ceiling is sky-high for 2010.  There will be surprises, excuses, apologies, releases, re-releases and more.  Money will be pumped in, not all where it should go, and progress will be made.  We'll laugh at the videos, smile at our favorite products and complain when it does work as expected.  Either way, it will be a year more interesting than the last and I'll be here to watch it all unfold.