UgoTrade brings us another excellent interview with Ori Inbar and explains it will be the first of many with leaders in the augmented reality movement.  Stop by and read the whole thing in its full-length goodness.  Here's a few highlights:
Ori: Exactly. In parallel to my blog becoming popular, it seems there's a lot of activity picking up in the AR space. People are reaching out to us and are asking asking for help. So we started actually making that a part of our business. We help connect them with the right technologies if they need it or connect them with the right brands or companies and strategize with them on how to go to market and help publish their applications or games. So that's becoming an exciting part of what we do.
An important part of augmented reality becoming a useful and integrated product with society is cooperation on standards and specifications.  Its good to see industry leaders busy nurturing this new technology rather than battling over the details.   A rising tide lifts all boats and augmented reality has seen a lot of growth so far this year as seen by the Google Trends graph below: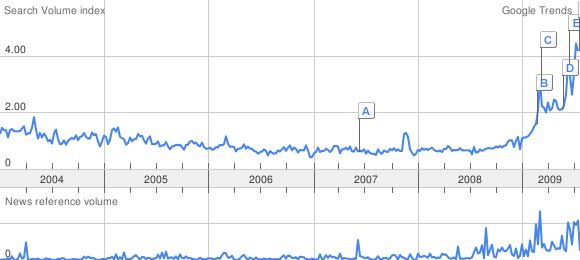 I think as Apple releases the iPhone OS 3.1 in September, which will allow a host of AR apps currently in development to hit the market, and with a few other products like the PS3 EyePet releasing around Christmas; we'll see augmented reality start to crack the mainstream consciousness.