If you're walking around a major metropolitan area and you see this sign are you going to be intrigued enough to download the free app and see what it is?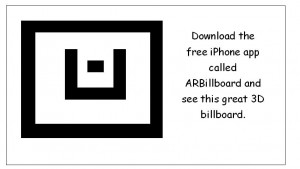 I think most people, assuming they have an iPhone (or Android or Pre), will be curious enough to do it.  It's only a few clicks away.
After downloading the app and holding the camera toward the billboard, they invested their time and curiosity into your marketing campaign.  Showing them a fantastic AR construct sticking out of the billboard will grab their attention and strike your product into their memory.  And since the content is all on the Internet, a new AR picture can be generated as frequently as you're willing to update it. 
Properly placed in a major downtown area like New York, London or Chicago, a marketing campaign could bring wild attention to your product and bring augmented reality to the masses.