Season One of the Hundred Halls is rapidly coming to an end. The Order of Merlin trilogy will wrap up the events that have happened in the twenty-five previous books, bringing together the characters you know and love in a final showdown with the infernal threat that's been building for a long time. To help you understand how the storylines fit together, I've made this simple graphic showing the timelines of the books in relation to each other.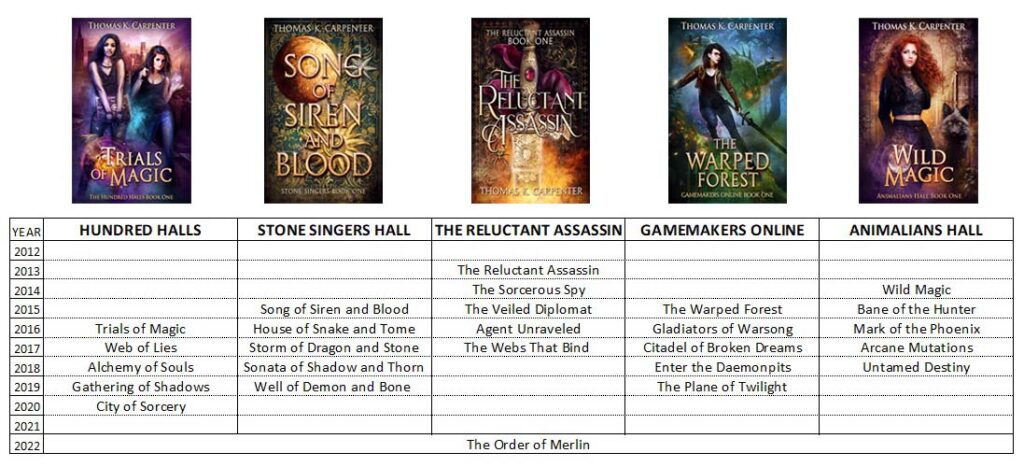 As you can see for the most part, all the main characters were in school at relatively the same time. Some of their storylines overlapped (Aurie and Zayn is the most prominent one), but a few others did in ways that weren't obvious in the story, but will be revealed in the Order of Merlin. There's also a two year gap between the final book of the Hundred Halls series, City of Sorcery, and the final trilogy. Aurie and Pi's story might have been the first one published, but chronologically, it was the last as the pivotal return of Invictus didn't happen until that final year.
I've mentioned in previous newsletters, but it bears repeating: The Order of Merlin won't be the last Hundred Halls series. When Season One is finished, I'll start on Season Two with a brand new story involving great characters and thrilling storylines. I'm already working on the details and will be working with my cover designer, Ravven, on how the books will look. I can't wait to reveal them later this year, or early in 2023 depending on how we're coming along with the series.
Now we just need Netflix to pick up the series and turn these books into a show. 🙂 Until then, I'll just keep writing. I'd love to hear which series you'd like to see turned into a TV show. Leave me a comment and let me know.