Birds of Prophecy is live!  While it's only been a few weeks since the last release, I didn't want readers to have to wait too long for the next book.  So if you were waiting to jump in, now is the time.  You won't regret it.  You're going to love where the series is going.
If this is your first introduction to the series, let me tell you that it's along the lines of the Dresden Files or Sherlock Holmes: A Game of Shadows with a touch of The Baroque Cycle from Neal Stephenson, and filled with myths of the ancient world.  The action follows Princess Dashkova, a real historical figure, along with Ben Franklin (who needs no introduction).
A good friend of mine, Annie Bellet, describes the series in this way (and I use this description quite often because it's brilliant): "Secret Russian princess, a young Ben Franklin, alternate history, mystery, and magic.  What's not to love?"
And as always, the amazing Ravven made the cover.  This might be my favorite one, but it's hard to pick between them because they're all so good!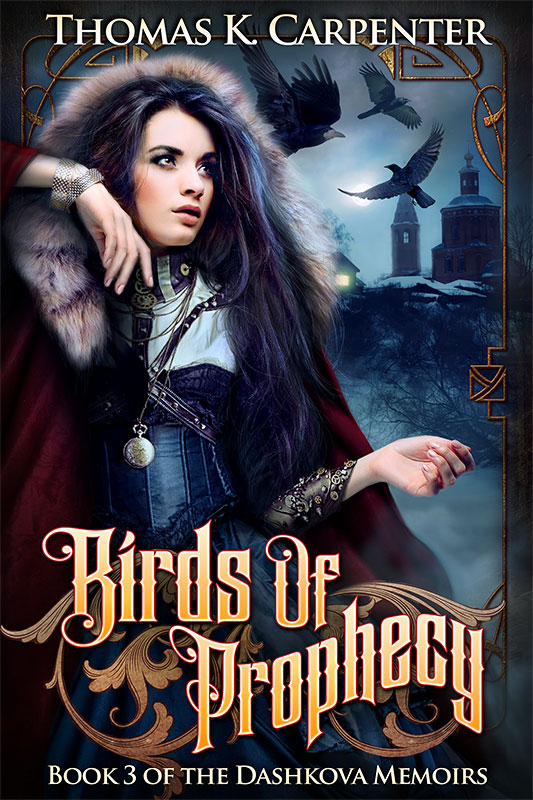 Katerina Dashkova must die.
When Warden Simon Snyder seeks Kat's help to solve a bloodless murder, she becomes entangled with a prophecy that predicts her death on the Winter Solstice. The investigation turns an old friend into a dangerous enemy, complicates loyalties, and creates a mystery so deep that Kat will have to expose herself to ultimate betrayal to solve it. Even if she does, the question remains: Can she save Philadelphia from an ancient evil?
Birds of Prophecy is the third book of The Dashkova Memoirs historical fantasy series.  Get it now on Amazon for only $3.99.
Book One – Revolutionary Magic
Book Two – A Cauldron of Secrets
Book Three – Birds of Prophecy
Book four, The Franklin Deception, will be released in June!