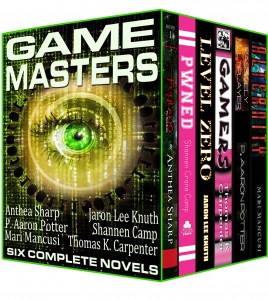 Hey all you fabulous gamers! GAMERS is part of a brand new multi-author book bundle, featuring six gamer-themed novels. From a romance-tinged coming-of-age story to a dystopian future, from faeries to hackers, this bundle brings the epic reads. Only .99 cents and available at:
Sometimes gaming is the best escape. Until virtual reality gets a little too real…
Six bestselling authors of gamer-themed fiction explore the intersection of pixels and reality, tackling big issues with plenty of adventure and geeky goodness along the way. From a modern-day coming of age tale packed with humor to a gritty speculative dystopian future, these bestselling and award-winning authors deliver, with books that explore the boundaries of immersive gaming.
Join the hackers and heroes adventuring within these virtual pages, but beware! Losing the game has dire consequences, not only for the players, but for the entire world.
MASSIVELY MULTIPLAYER – P. Aaron Potter
In the world of Crucible, Andrew doesn't have to worry about what major to pursue, or whether he should get a summer job. All he has to worry about is whether or not he'll get eaten. But with a hacker on the loose inside the game, the stakes turn life-or-death.
FEYLAND: THE DARK REALM – Anthea Sharp, USA Today bestselling author
High-tech gaming and ancient magic collide when a computer game opens a gateway to the treacherous Realm of Faerie. Jennet Carter never thought hacking into her dad's new epic-fantasy sim-game would be so exciting… or dangerous. But behind the interface,  dark magic awaits, leading her toward a battle that will test her to her limits and cost her more than she ever imagined.
GAMERS – Thomas K. Carpenter
Two points for brushing your teeth. Ten points for keeping your room tidy. Seventy-two points for the Bioeconomic Game Design pop quiz on the ride to school in your personal FunCar. Another thirty for making every hurdle in gym class. Life is a game, unless you're not the one winning.
LEVEL ZERO – Jaron Lee Knuth
When the sequel to a popular title is released to the public for a special beta test, a group of players eagerly log in to try out the new experience. What seems like harmless violence quickly turns all too consequential when the players realize the game's biggest error: They can't log out.
PWNED – Shannon Camp
Reagan West has a perfect life. She's at the top of the high school food chain as co-captain of the cheerleading squad and she's best friends with the most evil girl in town, Tawny Perez, which means she's never on the receiving end of her wrath. The only trouble in Reagan's perfect life comes from the threat of her dirty little secret leaking to her fellow classmates… she's a closet gamer and hates her role as the evil cheerleader.
ALTERNITY – Mari Mancusi, Award-winning author
Imagine every night entering a nightmare world you can't escape and being told your real life is nothing more than a dream. Skye Brown thought she had it all–good grades, a hot boyfriend, and an even hotter job beta testing RPG videogames. But lately she can't enjoy any of it because of the dreams. Of a post-apocalyptic world. A bleak underground wasteland. A struggle against a dystopian regime.