I have great news for those of you who love fiction involving games.  One of my good friends and all-around amazing author, Anthea Lawson/Anthea Sharp, has collected a bunch of gaming related novels and the wonderful people at StoryBundle have put it up on an exclusive basis.
Here's what Anthea has to say about it:
Sometimes gaming is the best escape. Until virtual reality gets a little too real…
Welcome to the Game Masters Bundle–eight stories of gamer-themed fiction that explore the intersection of pixels and reality. Each of these tales takes a gamer-centric look at the world, tackling big issues with plenty of fun and geeky goodness along the way.
I scoured the web to find the best indie authors of gamer-set books, and am thrilled to present this StoryBundle selection. Whether you're in the mood for a modern-day coming of age tale packed with humor, or a gritty speculative dystopian future, these bestselling and award-winning authors deliver, with stories that explore the boundaries of immersive gaming.
Join the hackers and heroes adventuring between these pages, but beware! Losing the game has dire consequences – not only for the players, but the entire world. – Anthea Sharp
For two weeks only, you can get eight stories for a price that you pick (the minimum is $3).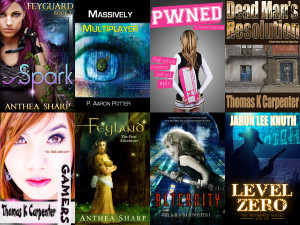 The initial titles in the bundle (minimum $3 to purchase) are:
Spark: Feyguard Book 1 by Anthea Sharp
Massively Multiplayer by P. Aaron Potter
Pwned by Shannen Crane Camp
Dead Man's Resolution, a short story by Thomas K. Carpenter
Gamers by Thomas K. Carpenter
If you pay more than the bonus price of just $10, you'll get another three books:
Feyland: The First Adventure, a novella by by Anthea Sharp
Alternity by Mari Mancusi
Level Zero by Jaron Lee Knuth
You can go here to StoryBundle to purchase it.  Get it before it's gone.