As you can see from the post following this one, a group of wildly talented authors, including me (humble of me, right?), have banded together to give readers a week of spectacular deals on steampunk fiction.  We're calling it The Indie Steampunk Lit Extravaganza.
For the week of April 21st to 26th, everyone's books will be at least 50% off normal price.  I'll be offering my book, Fires of Alexandria, for $0.99 during the deal.  The deals listed in the following post are only shown for Amazon, but my book will be reduced price across multiple sites.  If you're interested in one of the other books and it's not on the site of your choice, send the author a message and I'm sure they can get you to the right place.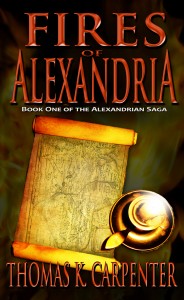 The greatest mystery of the ancient world remains the identity of who set fire to the Great Library in Alexandria. 
One hundred years later, Heron of Alexandria—the city's most renown inventor and creator of Temple miracles—receives coin from a mysterious patron to investigate the crime. Desperate to be free of the debts incurred by her twin brother, she accepts and sets in motion a chain of events that will shake the Roman Empire and change the course of history forever. 
Get it while you can!
Fires of Alexandria for $0.99: Amazon, KOBO, Barnes & Noble, and Google Play .