In honor of Heron of Alexandria's birthday, born around this time, a hair over two-thousand years ago, I'm reducing the price of the first book of the Alexandria Saga, Fires of Alexandria, down to $0.99 for one week.  So from Monday, March 24th, to Friday, March  28th, Fires of Alexandria will be available for a reduced price.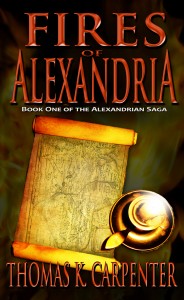 The greatest mystery of the ancient world remains the identity of who set fire to the Great Library in Alexandria. 
One hundred years later, Heron of Alexandria—the city's most renown inventor and creator of Temple miracles—receives coin from a mysterious patron to investigate the crime. Desperate to be free of the debts incurred by her twin brother, she accepts and sets in motion a chain of events that will shake the Roman Empire and change the course of history forever. 
Get it while you can!
Fires of Alexandria for $0.99: Amazon, Smashwords, KOBO, Barnes & Noble, Google Play .
I'm also doing a Goodreads Book Giveaway (the new cover shown above!)

And sign up for my newsletter to know when my next book is released.