This week is lining up to be a pretty crazy week. This afternoon I had a fantastic time doing a live interview on Cyrus Webb's Conversations LIVE show.  I'll admit, I was really nervous going into it, but Cyrus was a pro and his questions were interesting and thought provoking and I had a good time answering them.  Go here if you want to listen to the podcast, I think it's around twenty minutes long.
Starting tomorrow morning, I have a $0.99 deal on Fires of Alexandria going through the week.  Why does this matter?  Because I was able to land a coveted spot on the Bookbub list for a promotion on Wednesday.  Last March when my novel The Digital Sea hit the Bookbub list, it went all the way to #1 on cyberpunk and stayed there for a week.  That was a thrill and I have high hopes for this promotion as well.  The historical fiction category is much larger than science fiction and if all goes right, I might break top 50 on the main Amazon list.  *crosses fingers*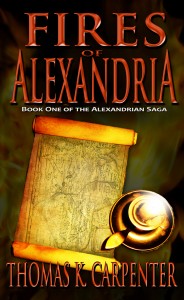 And just because things are extra crazy, ACX sent me fifty free audiobooks to giveaway for the stories The Adventures of Heron and The Curse of the Gorgon.  Adventures is five mystery stories based in the Alexandria time and Curse is one of those five stories, though it's the longest and my favorite of the bunch (but don't tell the others!)  If you'd like one of those free audiobooks, contact me in anyway you'd like (email, the Contact Me button on the left, a comment, etc) with your email and I'll send you one, no strings attached.
See, I told you things are crazy this week.  I have a few other things planned, but those are the major items.  I'm not sure I could fit anything else in if I tried!