I'm a huge fan of old war movies like Bridge Over the River Kwai, or The Great Escape, or Patton.  I also enjoy playing the grognard with turn-based computer war games.  When I was a kid, I would make up war-based games that required huge blankets of graph paper glued together as the map.  Troops were marked by letters and I became an expert at drawing contour maps in long, lazy spirals.  It was just as much fun making up the game as it was actually playing it.
So writing this book was a joy.
It's not all war.  There's a mystery involving Archimedes and the usual cast of characters struggling to make their way in a technologically-adverse world.  But there is war (otherwise the name Warmachines would be quite silly!), so I hope you don't mind if I indulged myself in a strategery.
Warmachines of Alexandria (Alexandrian Saga #4)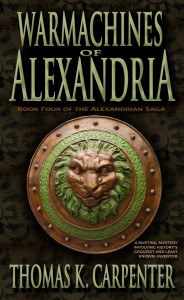 Two hundred years before the Alexandrian revolution, the inventor Archimedes created unimaginable weapons to defend the city-state of Syracuse from Rome. 
Now, the Alexandrians must contend with an enraged Roman Empire intent on destroying the technologically advanced upstart. While Agog takes his army of steam chariots north, Heron must investigate rumors of ancient weapons thought too destructive for the battlefield. As they speed towards conflict with the undefeated Roman Legion, the Alexandrian side must make a demanding sacrifice to survive. 
The novel can be purchased at Amazon, B&N, KOBO, Smashwords or other online retailers in ebook format for $6.99 or at Amazon in paperback for $18.99.
If you haven't read the first three, they are available in ebook form for $3.99 and $6.99 and $6.99 respectively.
Fires of Alexandria: Amazon, Smashwords, KOBO, Barnes & Noble, and paperback ($17.99).
Heirs of Alexandria: Amazon, B&N, KOBO, Smashwords, and paperback ($19.99).
Legacy of Alexandria: Amazon, B&N, KOBO, Smashwords and paperback ($18.99).