I'm a cruel and heartless person.  This book has been the hardest of the series to write (so far), but my first readers tell me it's their favorite.  I can't decide if they're more sadistic for enjoying the difficult times that Heron and the others endure in this book, or I am for writing it.  Either way, if you liked the first two, I don't think you'll be disappointed by the third and hopefully you'll be banging down my door for the fourth when you're done.
Legacy of Alexandria (Book Three of the Alexandrian Saga)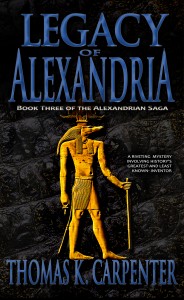 The secrets of the pyramids have been lost for two thousand years.
While Agog courts the Parthians, Heron plans to build the largest pyramid the world has ever seen to fulfill Alexander the Great's legacy. As Parthia's demands grow increasingly arduous, Heron's endeavors unleash hidden forces determined to destroy the fledgling pyramid and isolate the fragile city-state from gathering allies against Rome.
The novel can be purchased at Amazon, B&N, KOBO, Smashwords or other online retailers in ebook format for $6.99 or at Amazon in paperback for $18.99.
If you haven't read the first two, they are available in ebook form for $3.99 and $6.99 respectively.
Fires of Alexandria: Amazon, Smashwords, KOBO, Barnes & Noble, and paperback ($17.99).
Heirs of Alexandria: Amazon, B&N, KOBO, Smashwords, and paperback ($19.99).