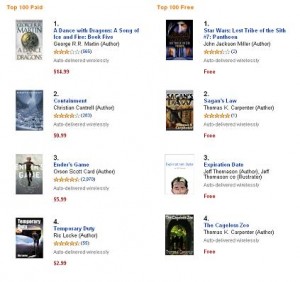 As a little experiment, I decided to make a couple of my short stories free on Amazon: Sagan's Law and The Cageless Zoo.  I didn't think much would happen and I pegged my expectations very low.  As of 5pm yesterday they were free on Amazon.  Exactly twenty-four hours later, they are #2 and #4 on the science fiction bestseller lists for free e-books (and Sagan's Law is #99 on the overall free list.)  I'm flabbergasted by the number of free downloads and even more pleasantly surprised by the novels sold because of these free offerings.  My novels have jumped way up the rankings as well, though no where near as high as the shorts.  My guess is that a fair number have enjoyed the short stories and are willing to take the plunge with a purchased novel.
If you've been on the fence about purchasing one of my novels, here's your chance to try a sample story.  If you decide you like, come back and pick up a copy of The Digital Sea, Gamers or the Fires of Alexandria.  I'm not sure how long I'm going to leave them up free, but get them while you can.
** Update — 8pm.  Sagan's Law is #1 on the free sci-fi ebooks.  Rather strange to be next to George RR Martin (he's tops on the paid list) but I'll take it.