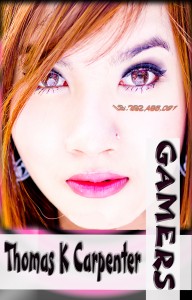 For those of you without an eReader, GAMERS, the first book of the Gamers trilogy,  is now available as a paperback.  If you're a fan of Scott Westerfeld (Uglies Trilogy) or Suzanne Collins (Hunger Games Trilogy) then I've been told by the early readers that you will enjoy this YA novel.  For you parents, it's a novel about augmented reality and the gamification of learning.     For your kids, the following blurb will suffice:
"Two points for brushing your teeth.  Ten points for keeping your room tidy.  Seventy-two points for the Bioeconomic Game Design pop quiz on the ride to school in your personal FunCar.  Another thirty for making every hurdle in gym class.
Life is a game, unless you're not the one winning.
When Gabby DeCorte, top student and reality-hacker extraordinaire, learns the truth about LifeGame, she must choose between winning and what she believes in."
Gamers can be found on eBook for $4.99 at:
And again, the paperback can be found at the direct order page (which is a division of Amazon) or on the Amazon website in a few days.