People really do judge a book by its cover.  I'm a cover snob myself.  Unless I know the author's work already, a cover will make or break my buying decision in the bookstore after reading the premise.  Hell, I won't even read the premise if I don't like the cover.  It doesn't make sense, but there it is.
Which is why I had to get a professional to redo my cover for my short story Sagan's Law.  I had tried my hand at the task, but frankly, I'd rather spend my precious time writing.  Plus, getting others to do my covers means I get to work with other creative professional types.
Cue stage right for The Cover Counts.
Based on a suggestion from a friend, and due to the strange coincidence that I'd met the woman behind The Cover Counts a few months before on the way to a workshop, I decided to give her a try with one of my covers.  The other advantage is that it being a short story, even if I hated it, it wouldn't be a total loss.
Thankfully, Renee did a fabulous job (and when did I start using the word fabulous?) and I would absolutely use her again.  She was obsessive about making the details right, even when I was satisfied the cover did the job.  And that speaks a lot that she wasn't satisfied until the job was right, and not that I was satisfied.  Kudos.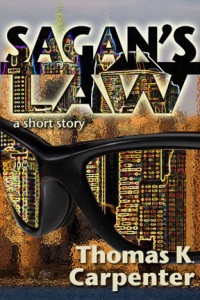 And here's the part where I shill my wares.  Shaking my tambourine at the hat filled with loose change and the stack of ebooks, just waiting to be downloaded.
shakes tambourine at hat
Sagan's Law for $0.99 at:
This is a Digital Sea story, so if you've read the book, you may enjoy the story.