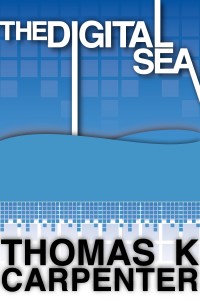 For those of you without an eReader, The Digital Sea is now available on Amazon as a paperback.  The cover looks fantastic and I'm very pleased how the artist, Joseph Roberts, transformed my vague ideas into a beautifully rendered retro sci-fi cover.  He's done a number of album covers but this was his first book cover and the publisher will be contracting him for the next two books in the trilogy.  The thumbnail on the book really doesn't do it justice.
"It's 2052.  A new reality is just a download away.
Decay is ubiquitious as the world's population shrinks under Sagan's Law.  But no one cares as their lives are consumed by the Digital Sea: an immersive augmented reality that's always on, seen through eye-screens and controlled by the mind.
Zel Aurora, a skilled reality-hacker, can change the Digital Sea with a thought, but all that power can't save her daughter from a deadily disease.  So Zel makes a deal with the Djed, a powerful crime lord that she's betrayed once before, to stop the new realities threatening his global empire.  When the Djed sends along his murderous bodyguard that's immune to her powers to make sure she completes the job, she's forced to make a choice that may cost her daughter's life."
And if you prefer the digital version, to be read on an eReader or your computer, it's still available at: