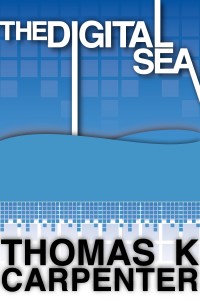 I'd always thought that writing the novel was the longest part of the publishing process.  Little did I know that publishing it would take about five times as long as writing it.  Still, good things come to those who wait, and I'm proud to announce the digital release of my novel The Digital Sea.
For those of you not yet on the eReader craze, physical copies will be available next week by print on demand, and at a later date available at selected stores.  Why release digitally now when the book's not available until next week?  Partially to capitalize on the influx of new eReaders getting opened up on Xmas morning, and partially for other reasons which I will go into on a later post (hint: it has to do with what the book is about.)
If you've been reading my site and haven't yet heard about this book, I'll give you the teaser which shows up on the back cover:
"It's 2052.  A new reality is just a download away.
Decay is ubiquitious as the world's population shrinks under Sagan's Law.  But no one cares as their lives are consumed by the Digital Sea: an immersive augmented reality that's always on, seen through eye-screens and controlled by the mind.
Zel Aurora, a skilled reality-hacker, can change the Digital Sea with a thought, but all that power can't save her daughter from a deadily disease.  So Zel makes a deal with the Djed, a powerful crime lord that she's betrayed once before, to stop the new realities threatening his global empire.  When the Djed sends along his murderous bodyguard that's immune to her powers to make sure she completes the job, she's forced to make a choice that may cost her daughter's life."
The Digital Sea can be found for $2.99 at:
It should also be available at the other eStores eventually, but it may take a week or so for the data to transfer.  So if you're looking for it right now, the above three links should get you the format your eReader needs.  Buy it now or get it for your loved one when they open up their eReader on Xmas morning.