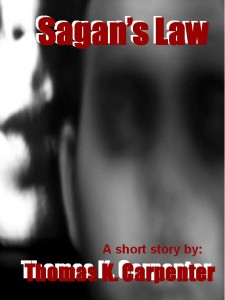 I sold this story two years ago.  It was my first story on augmented reality and when the rights reverted back to me a few months ago, I wanted to give people a chance to read it again.
Looking back on it, I see the influences of Gibson and our very own augmented reality prophet, Bruce Sterling.  Their place in my Pantheon of Writer Gods will never change, but I find myself developing my own style with my newer stories.  As they say, we're all standing on the shoulders of giants.
Escaping a rotting city that betrayed her dreams, an expectant mother must discover the truth about her husband's murder, utilizing the memories trapped in his augmented reality glasses.
The story Sagan's Law can be found for $0.99 at: