Last week I downloaded Junaio the new 3D augmented reality app from Metaio on my wife's 3G iPhone.  Unfortunately, its not the newer iPhone so I couldn't test the full capabilities of the app, but its nice that I can use the older model. 
When I explained that the app, "added 3D models into pictures connected to a place," to my eight-year-old daughter, she immediately wanted to help me test it.  The app was easy to load and figure out how to use and in a few short minutes we made this picture.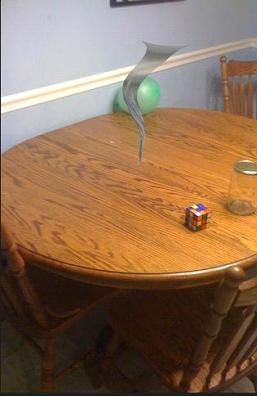 Nothing spectacular but now my daughter wanted to try.  She decided I was her subject and this is the result: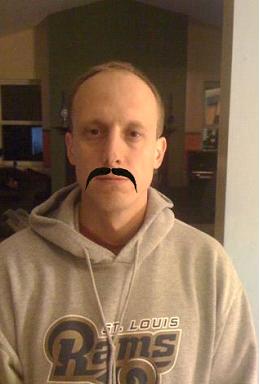 That's a nice mustache jamboree I have going there.  She thought it was hilarious and wanted to take more pictures, but the fun came to a screeching halt because the app faulted out the camera and subsequent pictures got turned to blank screens.  Turning on and off the iPhone got the camera to work again, but one picture using Junaio and it went blank again. 
The website adds more functionality to the service, because you can go in and touch up photos using your mouse instead of a fat finger on the iPhone screen.  Beyond that, the website is rather sparse. 
To improve the app, I suggest the following changes:
1) Add an option to store the graphics on the iPhone.  Waiting for them to load took too long each time.
2) Allow graphics to be moved along the full range of the iPhone screen.  I could only use the middle 50%.
3) Add search functions to the scenes beyond the map. 
4) More graphics (which is another reason for #2, so you don't wait forever for them all to load.)
I hope my experience with the camera is a limited one, because the application holds promise.  Its a kind of social-video-Photoshop hybrid that will work better the more people that use it.  Even without the ability to add graphics into the scene, the geolocative pictures can spice up a social hotspot by capturing moments for the future.  Think of Junaio as a Polaroid picture with goofy sketches overtop you leave where you took it.