We are now able to sell the Kingmaker Saga at all retailers! To celebrate we're offering 30% off any of the books in the series through our direct store from now until Friday at midnight.
In a game with no end, how would you build your kingdom?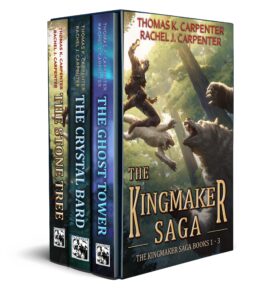 Separated from his friends in a brutal game of survival.  Secrets uncovered at every turn.  It wasn't the game he expected.
When Terran and his friends enter Kingmaker Saga, they're expecting a lifetime of adventure together, but a vengeful hag separates them, throwing their plans into disarray. Stuck in the unrelenting wilderness of the Rockleaf Forest and tracked by a dangerous Spirit Bear, Terran must find a way to survive.
Your discount is automatically applied at checkout, so don't miss your chance to get the Kingmaker Saga for less!