The end of schooling can be both a blessing and a curse.  Of course, you want to finish, but when you do, you're left feeling like you're losing something important.  I know when I finished college had to move into the real world that I didn't want to go.
The last book in The Hundred Halls, City of Sorcery, is a lot like that.  It's the last book in Aurie and Pi's adventures, which mean they'll have to go out into the real world after this year.  But unlike the real world, we the readers are not leaving our schooling days.  This is the last book in their adventures, but not for the Hundred Halls.  And assuming they survive, we might see the Silverthorne sisters in future books.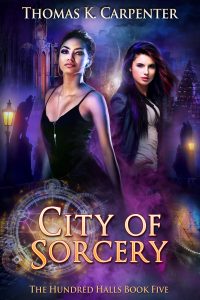 As the Hundred Halls heads towards civil war, the fate of the city—and possibly the world—depends on Aurie and Pi finding the truth about Invictus' disappearance. Following a trail of dangerous clues, the sisters delve deeper into the head patron's past, finding their family's history entwined with the university. As they get closer to the final answer, they must decide if saving the world is worth shattering the ideas of who they think they really are.
City of Sorcery is available at all major retailers for $5.99: Amazon, B&N, KOBO, Google Play, and iTunes.
If you're new to the series, and would like to get caught up, the Hundred Halls bundle is also available.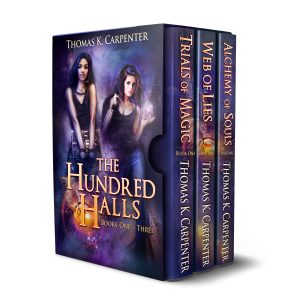 The bundle includes the first three books: Trials of Magic, Web of Lies, and Alchemy of Souls.  It can be found on Amazon in ebook for $8.99