After a long wait, book four of the Hundred Halls, Gathering of Shadows, is now available!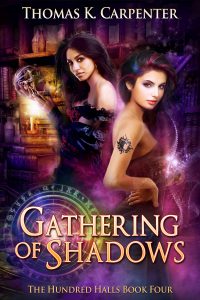 Every fall the city of Invictus bustles with new students, and the classrooms reek of spent faez.  This year it's true of every hall except one—Arcanium. 
While Semyon Grey, the Patron of Arcanium, slowly heals from his soul being torn, no one in the Hall can practice their craft, leaving them defenseless against the Cabal and faez madness.  The Silverthorne sisters must find a way to speed up the healing, or the Hundred Halls won't survive the year.  But everything they try only makes things worse, until they're left with an impossible decision that may cost the sisters their lives.
Gathering of Shadows is available on Amazon as an ebook for $4.99 and paperback at $12.99.
If you're new to the series, and would like to get caught up, the Hundred Halls bundle is also available.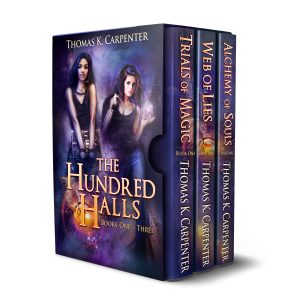 The bundle includes the first three books: Trials of Magic, Web of Lies, and Alchemy of Souls.  It can be found on Amazon in ebook for $8.99