For you readers longing for something in the same realm as Harry Potter or The Magicians, I bring you Trials of Magic, the first book in the Hundred Halls series.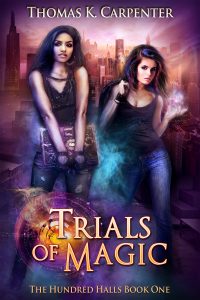 There are exactly one hundred halls of magic to choose from. Ever since our parents were killed I knew exactly which hall was for me.
Aurelia "Aurie" Silverthorne is one of the best and brightest to ever apply to the Hundred Halls, the only magical university in the world. To be accepted, she must pass grueling trials that claim the lives of aspirants every year.
But more than her desire to practice magic is at stake.
Aurie's little sister has been courting powerful forces in hopes of protecting herself from the beings that killed their parents, but alliances come with complications. As things spiral out of control, and dangerous foes arise at every turn, Aurie knows the only way to protect her sister is to pass the trials—even if it means making a terrible sacrifice.
Trials of Magic can be purchased in ebook format on Amazon for $0.99 or paperback for $12.99.