Tis the season to be giving.  Rather than buy you a shiny new Porsche, which would just suck up gas and insurance money, I'm giving you an eternal gift–a book.  For the holidays, and a little beyond, my young adult dystopia novel Gamers will be free on Amazon (and a few other select sites).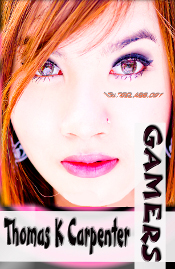 Two points for brushing your teeth. Ten points for keeping your room tidy. Seventy-two points for the Bioeconomic Game Design pop quiz on the ride to school in your personal FunCar. Another thirty for making every hurdle in gym class. 
Life is a game, unless you're not the one winning.
Gabby DeCorte, top student and reality-hacker extraordinaire, has been doing whatever it takes to keep her best friend, Zaela, from falling behind in LifeGame. Zaela has gifts of artistry that amaze Gabby, but none of those skills translate in LifeGame and with final exams coming up, they can't afford to waste a single minute. But when a mysterious group called the Frags contacts Gabby claiming to know what really happens to the losers of LifeGame, she must choose between winning and what she believes in.
The free book can be found on Kindle, B&N, Sony, and Smashwords.  Enjoy!