What's with all the Dr. Seuss madness?  I have a new cover for an old story and a new cover for a new story.  That's what kind it is.
Last year we put out The Cageless Zoo and it had a great run, including a one week stint on the Science Fiction/Adventure best seller list on Amazon and top 25 of all science fiction titles.  Sales were obviously great, but we were never happy with the cover.  Not that it was bad, per se, but it really didn't do the story justice.
Flash forward to now.  With a couple of years of cover design experience under her belt, my lovely and talented wife, Rachel, updated the cover for The Cageless Zoo.  The results speak for themselves.  I'll put both covers here for comparison.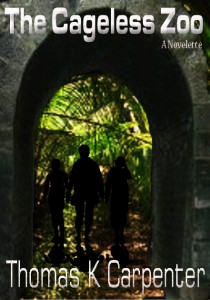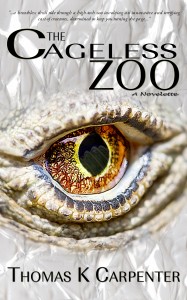 I want to point out a particularly lovely aspect of the new cover.  If you look into the eye of the beastie, you can see the reflection of a dome from the zoo.  A suburb little detail that makes the cover work while not being too obvious.
Here's the link to the story if the new cover so inclines you to purchase it–The Cageless Zoo.  The story can be purchased for $2.99 at most major online retailers and in audiobook for $5.95.
The second cover on today's docket is The Lorieme Job.
This novelette is set in The Digital Sea universe and is a good prequel story if the The Digital Sea interests you.
Breaking into an impenetrable alpine fortress. Double-crossing a dangerous friend. Stealing the world's most illegal substance because you're bored.
Just another day in the life of the world's most talented – and dysfunctional – reality thief. But this time Zel Aurora may learn her abilities have limits.
The story can also be found at most major retailers, including Amazon, for $2.99.
And if you like the new covers, please leave a comment and I'll pass it along to my lovely wife.  We egotistical writers always hog the spotlight, so it's nice to showcase the cover designer from time to time (especially when it's my wife!)